Cleaning and preparation
You should begin by scraping up all lightly add here debris. Next, sweep the concrete thoroughly. Test for porosity with water throughout the slab. Water should penetrate rapidly.
Next, do a stain sample test with a sponge. Apply a small amount of stain in a circular motion. After 30 minutes, rub with a white cloth. If the stain comes up you will need to etch the concrete. If you are doing some design work, you will need to etch to assure we have plenty of porosity.
Clean the slab thoroughly with a black pad, water and degrees or mix. This is necessary to achieve a good even etch. Remove residue using a wet dry shot back with a squeegee attachment.
Now, check the floor for paint and mastic. Sometimes it can be hard to see when the concrete is dry. Use a razor blade scraper to remove topical paint and mastic. Small handhelds work best. Use a paint and adhesive remover to remove subsurface paint and mastic. Clean a second time to remove any stripper residues and concrete powder.
Etching process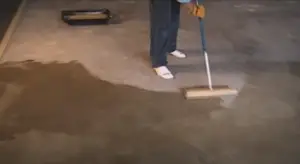 Etch the concrete with right etch for maximum porosity. Spray on plenty of edge to assure and even job. Let well from one to 10 minutes. Clean twice with water to remove all residue and let the concrete dry completely before staining.
How to apply the acid stain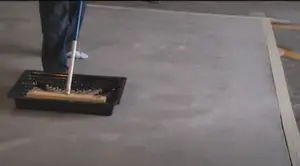 For this staining application, use 16 inch would block applicator with a blue sponge slide down to limit brush strokes and an 18 inch paint tray. Dip the pad into the stain and rub off on the ribs of the paint tray. Do this a couple of times to make sure you have plenty of stain in the pad.
Scrub the stain into the concrete as. Remember to work out any lines or brush strokes while spreading the stain. Continue spreading the stain across the floor and remember only reload when necessary. The key is to work the stain into the concrete without leaving any residue on top, so you're basically rubbing it in dry.
For the stain to become part of your concrete, it must not be allowed to dry on top, so take your time and keep this in mind while staining. If no design is required, you can let the stain dry and cure for six hours and then seal and finish. Only attempt a second coat if you know you have enough porosity.
Designing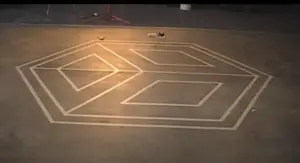 To create designs without saw cutting you can use medium adhesion masking tape. Using a sponge, dip the front edge into the stain and use a circular motion to distribute most of the stain. Now, run the sponge across the tape edge. This will ensure a good straight line with the minimal to no bleed under.
Seal it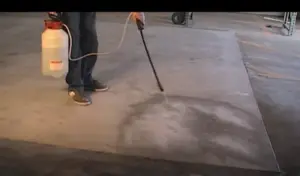 When all staining is complete, let it cure for six hours before sealing. Simply pour the sealer into a pump up sprayer. Spray in a circular motion in about a three to four foot path across the floor. A second person should follow right behind using a microfiber mop to spread the sealer evenly.
Work from one side to the other and with each pass completed, go back to the starting side. Using this method allows you to work quickly and keep a wet edge at all times. When the sealer completely dry you can apply a floor finish or wax to provide a satin gloss or high gloss shine and provide a good wear surface. Properly maintained, this floor can last a lifetime.
What is the Best Color to Paint a Garage Interior?